Tumor Boards
Tumor boards at Montefiore Einstein Comprehensive Cancer Center provide a multidisciplinary approach to determining the optimal treatment for each individual patient we care for. Tumor board members collaborate and review each patient's case, history and treatment options in great detail before making recommendations on a comprehensive, personalized treatment plan. These boards are also an excellent way of identifying patients who are candidates for one of our more than 320 clinical trials.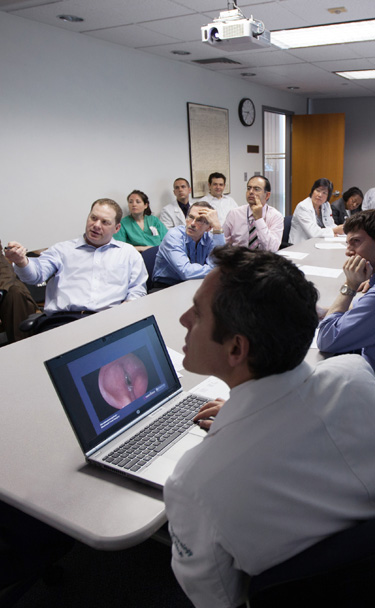 Tumor boards are comprised of an expert panel of Cancer Center specialists who review and discuss the medical condition and treatment of each patient, with each cancer specialty area having its own tumor board. Our internationally renowned experts organize and run their own tumor boards, working collaboratively and diligently to identify successful treatments within their own specialty.
Goals of Tumor Boards
Each patient's case is presented to the tumor board, where we discuss their range of treatment options as well as what supportive care and resources the patient or their loved ones may benefit from. This approach is well-established and science-backed—helping each patient reach their best possible outcome and enjoy the highest possible quality of life throughout their cancer journey.
Tumor boards are comprised of many specialists and health professionals, including:
Clinical trial study coordinators
Medical oncologists
Nurse navigators
Radiation oncologists
Surgical oncologists
Patients benefit from a comprehensive plan of care designed by specialists working closely together. This multidisciplinary approach ensures that each patient's case is thoroughly reviewed, with recommendations tailored to their unique needs.
Continuing Medical Education (CME) Credit
Practicing cancer specialists, nurse practitioners, other professionals and medical students all benefit from attending and participating in tumor boards. Those who participate in boards are eligible for continuing medical education (CME) credit.