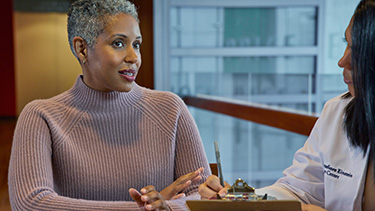 Cancer Treatments
Montefiore Einstein Comprehensive Cancer Center offers access to the latest, most advanced treatment options. Our multidisciplinary team approach is designed to help patients get from uncertainty to an accurate diagnosis fast, and then quickly build a dedicated and personalized treatment plan around each patient's diagnosis and needs. With over 320 clinical trials in progress, we can also provide access to emerging treatments that are otherwise unavailable.
Throughout treatment, your personalized specialist team works together with you and your caregivers in real time to help deliver you the best possible outcome.
Your Personalized Cancer Treatment Plan
We treat the whole patient, not just the cancer itself. Our nationally recognized cancer specialists work closely with you to create a holistic care approach to meet your goals and fit your lifestyle. Our team of cross-functional experts will listen to your concerns and answer all of your questions. We share our knowledge and expertise to design the very best care strategy for you.
Montefiore Einstein Comprehensive Cancer Center creates a personalized cancer care journey for each patient. This considers a wide range of variables beyond the type of cancer and its stage, such as additional circumstances that can affect a patient's chance for a positive outcome—age, medical conditions, emotional concerns or lack of support from family or friends. As a result, no two pathways are ever alike.
Your treatment plan may include one or a combination of ground-breaking therapies. The treatments your team recommends depend on many factors, including these:
The type of cancer you have
Your diagnostic test results
Cancer staging results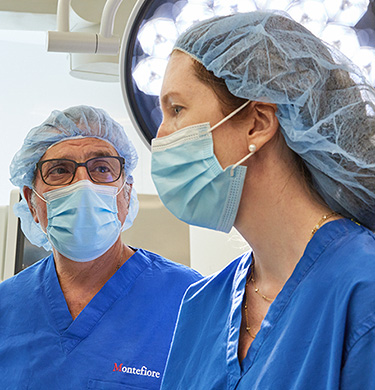 A Multidisciplinary Team Planning Your Care
When you come to Montefiore Einstein Comprehensive Cancer Center, you receive care from a team of expert specialists focused on ensuring your treatments are exactly what your diagnosis and lifestyle calls for.
No two cancers or patients are alike. That's why we provide specialists in specific types of cancers, as well as expertise from all other areas of healthcare. Working together as a team, we're able to coordinate the best comprehensive care plan for each patient. Together, you'll discuss things like these:
Your medical condition and any past health issues
Clinical trials that may be appropriate for you
Ongoing assessments and recommendations during your treatment
Cancer Treatments We Offer
Our specialists provide a treatment plan designed for you that's aimed at targeting your cancer in the most effective way. As a full-service health institute, we have the resources to provide care and support in all areas of treatment. Your care plan may include surgery, chemotherapy, radiation therapy, hormone and precision therapy or even cellular therapies.