Bronx Oncology Living Daily Programs & Services
Bronx Oncology Living Daily (BOLD) is a wellness and support program open to anyone affected by cancer, including Montefiore Einstein Cancer Center patients, family caregivers and members of the cancer care community. We offer a number of innovative, holistic programs and services to the communities we serve.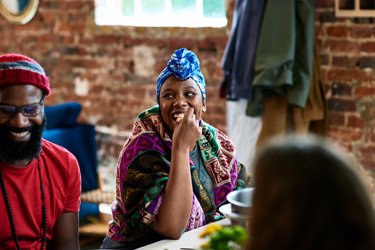 BOLD Services
You can take part in a wide variety of programs and services designed especially for people navigating a cancer diagnosis and their loved ones. Our peer navigator programs, including BOLD Buddies and BOLD Brothers & Sisters, offer one-on-one support with a mentor who has been through cancer treatment. Through firsthand experiences, our team can help you understand what to expect and access complimentary services. We're available and ready to answer your questions and provide support.
BOLD Wellness Workshops
Our compassionate staff and volunteers have developed our BOLD Wellness Workshops based on feedback from our patients and their families. Some of the most popular workshops offered on a weekly or monthly basis are built around topics like:
Creative arts

Education

Mind-body wellness

Nutrition

Physical activity
BOLD Healthy Living Program
The BOLD Healthy Living Program is a diabetes prevention and control program designed for cancer survivors that are identified as clinically pre-diabetic. It is the first-known lifestyle intervention program in the U.S. launched to reach predominantly African-American and Latino populations. We offer our nutrition education curriculum in English and Spanish. In addition, the BOLD Healthy Living Program incorporates educational handouts, group classes and presentations on a variety of topics. We developed these offerings based on research-backed findings and community feedback.
Subscribe to our Newsletter